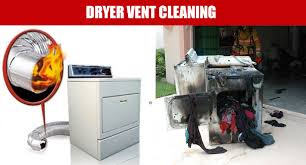 Various objects can block or clog a dryer vent such as debris, dirt and a built-up lint. Also, a sagging, bent or twisted dryer hose can trap ling and debris that will restrict airflow to the vent.
In addition, a poorly or loosely connected dryer hose can also clog or block the vent.
When lint and debris accumulates and limits air flow, the dryer may overheat and could catch on fire, which can be very dangerous or deadly. If you want to prevent a potential fire in your home, we highly recommend that you call our reputable and well experienced Fairborn, OH dryer vent cleaning company today.
Several things indicate that the dryer vent needs cleaning. If you notice that your clothing is not fully dry after going through the regular drying cycle, it is very likely that your vent is blocked with debris. In addition, if you find that your items are extremely hot to the touch after the normal drying cycle, contact us right away.
Lint or trash that has piled up behind the dryer is also a sign of a problem. Lint can easily catch on fire, which is why we strongly urge you to use our top-rate Fairborn, OH dryer vent cleaning services. It is the best way to avoid a fire in your home.
If you notice an unusual or strong burning odor when the dryer is being used, contact us right away. Burning smells are a sure sign that the dryer vent is clogged with a large amount of lint and dirt and should be cleaned immediately.
An annual professional Fairborn, OH dryer vent cleaning is the best way keep your dryer working properly and will help prevent a fire in your home. Contact us today to make an appointment to have your dryer vent thoroughly cleaned.

We Will Get Back To You With A Free Estimate