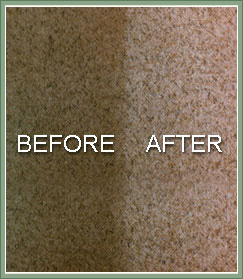 If you're like most people, you probably do your best to keep your carpeting clean. You've got a high powered vacuum cleaner with all the latest attachments and gizmos, and an entire cupboard filled with cleaning products designed to remove stains, odors, and keep your carpet looking fresh. But, like most people, you probably aren't getting the clean that you want. Pet stains just won't budge, food particles stay buried deep within the pile, and there's still a mysterious odor no matter what you apply to it. But there's no need to despair; a solution is available and it's just a phone call away. Give our professional Xenia, OH carpet cleaning company call right away.
When you call our professional Xenia, OH carpet cleaning company, you'll receive prompt and friendly service. We'll take time to find out what you need and answer any questions you have. You'll never be pressured into ordering more than you need and scheduling your first cleaning at a time that's convenient for you is guaranteed.
We start every cleaning by ensuring that we choose the right cleaning products for the exact type of carpeting you have. Improper products are the number one cause of damage and discoloration to your carpeting, but you won't have to worry about that from us! From there, we perform any necessary spot treatment, targeting stubborn stains and odors. From there, we precondition your carpet to being removing deep-set dirt and dust. Next, our powerful hot water extraction system gently but thoroughly removes dirt, dust, mites, and pet dander from deep within your carpet fibers. Best of all, the nature of this style of cleaning leaves your carpet nearly dry -allowing you to get on with your life and not have to wait for your flooring to dry.
If you're ready to experience a new level of clean in your home, then give us a call today!

We Will Get Back To You With A Free Estimate