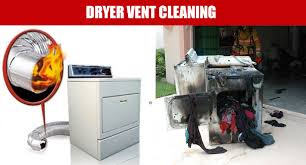 If you use your clothing dryer many times during the week and if it has been longer than a year since you had your dryer vent cleaned, it would be a good idea to do so now.
We are very reputable and reliable company, so contact us today to schedule an appointment. Our service is top-rate and our dryer vent cleaning in Beavercreek, OH cannot be beat by any other company in town.
There are certain things to look for such as your clothing and other items being wet or damp after they have gone through a normal drying cycle. When this happens, it is very likely that your vent is blocked with lint and debris and should be cleaned by top-notch professionals like us as soon as possible.
We highly advise against ignoring any indications of a clogged or blocked vent because doing so could lead to a devastating fire in your home. A fire can destroy your house and many of your belongings and can also quickly become dangerous or deadly.
Another sign that points to the need for a dryer vent cleaning is a strong burning smell when the dryer is in operation. This smell is not normal and should be fixed right away to avoid a fire.
Also, the outside of the dryer should not be overly hot when the dryer is being used. In addition, if you notice lint and debris piled up behind the dryer or coming from the vent's opening, your vent is blocked and needs a thorough cleaning.
To prevent a fire in your home, we suggest that you contact us right away for a dryer vent cleaning in Beavercreek, OH. We offer the best service in town and our prices are reasonable, so contact us today to make an appointment.

We will get back to you with a free estimate