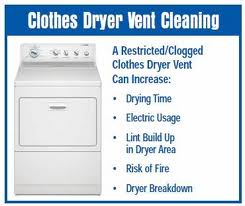 If the vent on your clothing dryer is clogged with dirt, lint and debris, a fire could occur at any moment in your home that could be very dangerous and deadly. We ask that if your dryer has not been inspected and cleaned in over a year that you contact us right away and ask about our first-rate and efficient Xenia, OH dryer vent cleaning services.
Typically, it is recommended that you have your dryer vent professionally cleaned once or twice a year. This is the best way to keep vents from becoming clogged and to prevent a fire. Lint and debris can easily catch on fire, which is why it is best to have the dryer inspected and on a yearly basis. If you do, you will greatly reduce the risk of a fire in your home.
There are several things that indicate that the dryer vent is clogged. One of the most common signs is you clothing and other items being damp or wet after they have gone through a normal drying. If your garments are wet or damp after going through the drying cycle, most likely lint and debris is clogging the vent and restricting air flow.
If you see piles of lint behind the dryer, it is also an indication that the dryer vent is clogged with debris. Plus, a strong burning odor coming from the dryer when in use points to a clogged vent. It is highly advised that if there is an burning or strong odor coming from the dryer when it is being used, turn it off immediately and get in touch with our reputable and established Xenia, OH dryer vent cleaning company right away and setup an appointment.

We will get back to you with a free estimate