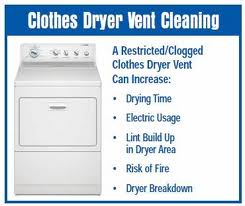 If you dry your clothes three or more times a week, your dryer vent will become clogged with lint and debris over a period of time. It will need to be professionally cleaned if you wish to avoid a possible fire in your home. We advise that you contact our first-rate and dependable dryer vent cleaning Dayton, OH company to do the job.
We offer first-rate services that you can rely on. Lint, dirt and debris will pile up during the course of a year. Lint is and an inflammable substance, which is why strongly urge you to have your dryer vent cleaned by top-rate processionals like us annually.
Certain things will indicate that your dryer needs to be cleaned. One of the most common is if your items are still wet or damp after the normal drying cycle has finished. If this occurs, your vent needs to be cleaned right away. Doing so will help avoid a fire and will make using your dryer safe.
Another sign to look for is a pungent burning smell when the dryer is in use. If you smell a strong burning odor, do not continue to use your dryer. Turn it off immediately and contact us right away so that our trained technicians can clean the vent.
It is very dangerous to put off dryer vent cleaning because you will be putting your life at risk if a fire should start in your home. It only takes a few minutes to setup an appointment with our friendly staff, so contact us today.
We have been in the dryer vent cleaning Dayton, OH business for many years and are highly efficient. You can trust us to do a great job because our high quality services will not be beat.

We will get back to you with a free estimate