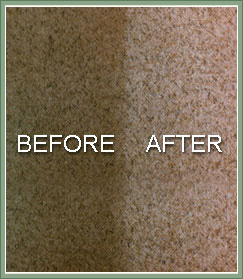 You are sick and tired of looking at your dingy and stained living room carpeting. It is embarrassing when friends and family members stop by for a visit. Plus, it has a musty odor that will not go away and that is affecting the entire house.
You vacuum and spot clean your carpet regularly and have used store bought carpet cleaning products that have not been very effective at removing the dirt and grime. In addition, they also did not get rid of the musty odor.
We are a trustworthy and efficient Bellbrook, OH carpet cleaner that has been in business for decades and have the skills and know how to safely and effectively remove embedded dirt and grime as well as stains. Plus, our fresh and powerful deodorizers will get rid of the stale odors and will leave your carpeting looking and smelling like new.
Our crew is highly skilled and trained and will use professional grade equipment and professional strength cleaning agents to safely clean your carpet. We will not discolor your carpeting or damage it in any way. When the job is complete, we guarantee that your carpet will be free of dirt, grime and stains and will look and smell great.
We are a very reputable and reliable Bellbrook, OH carpet cleaner that you can trust to make your carpeting look as if it was just installed. Our technicians are trained and skilled and know what they are doing and have been successfully cleaning carpets for years.
If you want your dirty, stained and smelly carpeting to be safely and thoroughly cleaned by top-notch professionals, we are the best Bellbrook, OH carpet cleaner, so call us today and setup an appointment. We promise that your carpeting will be completely restored and will look and smell brand new.

We will get back to you with a free estimate