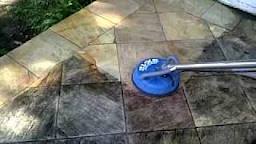 If you have tiled surfaces in your home such as in the hallway, bathroom, shower or kitchen, you know how difficult it can be to keep them clean and looking like new. Tile can easily get stained and often gets water spots due to moisture. Also, grout lines can become filthy and grimy with mold, soap scum and dirt over a period of time. Lime can also form on your beautiful tile if it is not properly cleaned.
Another problem that can develop is a dull shine or finish on the surface of the tile. Strong cleansers that contain bleach and chemicals can also make tile look lackluster. To get the tile in your house to look polished and spotless, contact our well-established and trustworthy tile and grout cleaning Centerville, OH company today. Our efficient and skilled team has the know-how to successfully get rid of dirt and grime and will give the tile and grout in you're a magnificent sheen.
Our crew will not mar, scratch, discolor, fade, chip or damage the tiled surfaces in your home because they are experts and know how to safely clean tile and grout. If you want your tiled surfaces to be thoroughly cleaned, call us and let our crew do the difficult work for you. Our adept team will do away with set in dirt and scum from the grout lines and will use effective and mild cleansers that will make your tile sparkle.
The team will also use the right equipment and cleaning techniques to remove mold and mildew and water spots as well as stains from your tile and grout and make it glisten. We are an experienced and reputable tile and grout cleaning Centerville, OH company that you can trust to safely clean the tile and grout in your home.
Tile And Grout Cleaning In Centerville, OH Gives Your Dull Tile New Life

We will get back to you with a free estimate