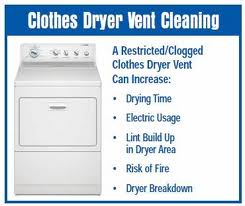 For your safety, it is a good idea to have your dryer cleaned by a professional company at least once a year. Over time, lint, dirt, dust and debris becomes trapped and will clog the vent, which could cause a fire. To keep this from happening, contact our experienced and reliable dryer vent cleaning Dayton, OH company.
Several things point to a clogged vent such as lint or debris coming out of the filter and from the dryer vent opening. In addition, there may be large amounts of lint piled up behind your dryer. This can be dangerous, so it is highly recommended that you call someone like us to clean your dryer vent.
Dirty catch screens can also lead to clogged dryer vents. Screens are designed to block debris and lint from clogging vents, but when they get dirty, air flow will be restricted, which could cause a fire. Also, if the vent is bent or is sagging it could become clogged, which is why your dryer vent should be cleaned at least once a year.
Another sign of a clogged vent is when your clothing takes a longer time than usual to dry and has to be put through more than one cycle. If it takes more than one cycle to dry your clothes, most likely, it will increase your monthly electric bill. To keep your energy bill from rising, contact our dryer vent cleaning Dayton, OH company today.
If you smell a strong burning odor, it is a strong indication that lint and debris is blocking the vent. Turn off your dryer and contact us right away if you smell burning odors because it could catch on fire. Contacting our established dryer vent cleaning Dayton, OH company will reduce the risk of a fire in your home and is the best way to ensure that your vent will be properly cleaned.

We will get back to you with a free estimate