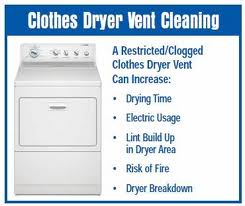 To avoid a potential fire in your home, it is a good idea to have your clothes dryer vent cleaned by a professional company like ours annually. Over a period of a year dust, debris and dirt can become trapped and will eventually clog the vent and could start a fire. Call our established and reliable dryer vent cleaning Fairborn, OH company to keep this from occurring.
There are several signs that indicate that the vent is blocked. One of the most common is lint spilling from the dryer vent opening or from the filter. Also, there may a huge pile of lint behind the dryer, which can be dangerous. It is highly advised that you have your dryer vent cleaned to avoid a problem.
Another sign of a blocked or clogged dryer vent is a strong burning smell coming from the dryer when it is in operation. If you smell a burning odor, it is highly likely that lint is blocking the vent. Stop using the dryer and turn it off right away and contact us immediately because the dryer could catch on fire.
Needing more than one normal drying cycle to completely dry your clothes is also a sign that the vent is clogged with debris. In addition, if your clothing items are unusually hot when you remove them from the dryer lint and trash is probably clogging the dryer vent.
When the cage or screen that catches lint and debris from clogging the vent becomes dirty, air flow will be diminished and could cause a fire. This is another common sign of a blocked dryer vent and should be addressed as soon as possible.
Contact our experienced and dependable dryer vent cleaning Fairborn, OH company to lessen the risk of a fire occurring in your home.

We will get back to you with a free estimate