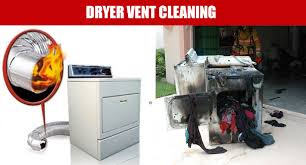 If you own a dryer, you should have the vent cleaned at least once a year by a professional and reputable dryer vent cleaning Bellbrook, OH company like ours. Lint, debris and dirt will pile up over a period of time and will clog the vent on your dryer. The accumulation of lint and debris could catch fire, which is why you should have us clean your dryer vent for you.
There are several things that can point to the vent being clogged. One of the most common signs having to put your garments through more than one normal drying cycles to completely dry your items. In addition, if your garments are unusually hot to the touch after you have put them through a normal drying cycle, your dryer vent is probably clogged and needs to be cleaned.
Another sign is if lint is piling up on the outside of the opening of your dryer vent. Also, if you see a large pile of lint and debris behind your dryer, the vent is most likely being clogged with lint and trash and should be cleaned as soon as possible.
Also, if you notice that your vent is sagging, drooping or hanging down in the middle or is bent, it is almost a certainly that lint and debris has become trapped and is clogging the vent and is restricting air flow.
If you smell a potent burning odor that is another indication that vent on your dryer is blocked. If you observe strong odors when you are using your dryer, turn off your dryer right away and contact our established dryer vent cleaning Bellbrook, OH company. We will thoroughly clean your dryer vent and reduce the chance of a fire in your home.
Our Professional Dryer Vent Cleaning In Bellbrook, OH Keeps You Safe

We will get back to you with a free estimate