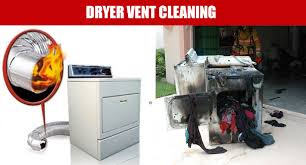 We highly recommend yearly professional Fairborn, OH dryer vent cleaning to prevent the build up of dirt, lint and debris which can easily catch on fire. To keep these particles from blocking or clogging your dryer vent and from catching on fire, contact our reputable and well established company today. We will safely and effectively clean your dryer vent and will greatly reduce the risk of a fire in your home.
One sign of a clogged vent to look for is damp clothing after a normal drying cycle and the need for more than one normal drying cycle to completely dry a load of clothing. When this happens, it is very likely that the dryer vent is blocked with debris and needs cleaning right away.
A strong burning odor is another indication of a blocked dryer vent. If you smell a burning odor when the dryer is in use, turn it off right away and contact a reputable and experienced dryer vent cleaning company as soon as possible to clean your dryer and to prevent a fire.
If your clothing and other items are still hot after going through the normal drying cycle, it is a sure sign of a clogged vent that needs to be cleaned. Generally, when this happens your dryer is overheating. An overheated dryer can be very dangerous because it can cause the electrical system in your home to overload and could cause a fire in your home. We provide first-rate Fairborn, OH dryer vent cleaning and are the best in town, so call us today to make an appointment.

We will get back to you with a free estimate