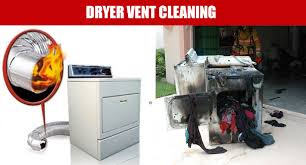 In Beavercreek, OH dryer vent cleaning is something you should not put off doing. Doing so could very well lead to a fire in your home. Lint and dust accumulates in air ducts over time and can easily catch on fire. The fire could cause major damage to your home or it could destroy your home.
Most people use their dryers several times a week, which will cause a lot of lint, trash and debris to build up in the vent over time, but they do not ever think about having their vent cleaned. It is best to have you dryer vent cleaned once or twice a year by a reputable and established company such as ours.
Not having your vent cleaned regularly will most likely cause your dryer to work harder, which could cause it to break down, which will cost you money to have it repaired. In addition, you may have to replace your dryer, which could be very costly. If you want to avoid that kind of cost, our annual Beavercreek, OH dryer vent cleaning is the best option. It will save you money and will help keep your dryer operating properly for many years.
Our technicians are well trained and experienced and will remove all dirt, dust, trash and lint as well as debris from your vent. This will keep your dryer from overheating and from being clogged and will stop it from casing a fire in your home.
Pay attention to signs of a clogged vent such as a strong burning odor when the dryer is in operation, the dryer shutting off and needing more than one normal drying cycle to get your clothing completely dried. If you notice any of these signs, it is time to call us and ask about our Beavercreek, OH dryer vent cleaning services.

We will get back to you with a free estimate