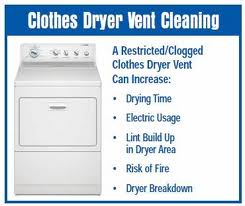 For anyone who owns a clothing dryer, it is imperative that you have the vent cleaned every year by a professional Xenia, OH dryer vent cleaning company like us. Overtime trash, debris, dirt and lint will accumulate and clog the vent and could catch fire due to the fact that lint and debris are very inflammable materials.
If you have a gas dryer, dangerous carbon monoxide can seep into your home when the vent becomes blocked with debris and trash. Carbon monoxide is extremely hazardous and can make you very ill. It can also be deadly, which makes it important for to have your dryer vent cleaned yearly.
There are several things that can point to the vent being clogged. One common sign is the need to put your clothing and other items through two or more drying cycles to get them completely dry. In addition, if your clothing is exceptionally hot after going through the normal drying cycle, your dryer vent is most likely is clogged and needs cleaning.
Another thing to look for is lint piling up on the outside of the vent's opening. Also, if you see a huge amount of debris or lint piled up behind your dryer, the vent is being blocked with trash and should be cleaned right away. If your vent is bent or sagging in the middle, lint and debris could become trapped and clog the vent.
A strong burning odor is also another sign that the dryer vent is clogged. If strong odors are observed when the dryer is operating, turn it off immediately and call our reputable Xenia, OH dryer vent cleaning company. Our skilled technician will check your dryer for any problems and will clean the vent, which will lessen the chance of a fire in your home.
Dryer Vent Cleaning In Xenia, OH Reduces The Risk Of A Fire

We will get back to you with a free estimate