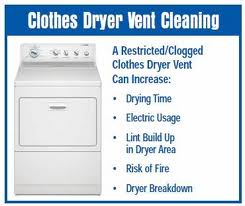 The vent on the clothes dryer can become blocked or clogged for various reasons such as a build-up of trash and lint, twisted, sagging or bent hoses and from a bent a broken vent.
A duct that is poorly connected is another thing that can cause the vent to become clogged. When the duct is not connected right, lint and debris can become trapped. Also, if the screen that helps prevent the buildup of debris is not cleaned on a regular basis, the ducts will become clogged with lint that will inhibit air flow.
When lint and debris accumulates in the dryer vent it can become a very dangerous situation that could result in a fire. If you want to avoid the risk of a fire, contact our well-established and reputable dryer vent cleaning Fairborn, OH company today.
Several things indicate that your dryer vent is clogged. If your clothing and other items are not completely dry after they have gone through a regular drying cycle and needs two or more additional cycles to dry, your vent is probably blocked. In addition, if your garments are overly hot after going through a normal drying cycle, the vent is most likely clogged.
Another sign to look for is a strong or unusual burning odor when the dryer is in use. Typically, a burning smell means that a large amount of lint and debris is caught in the dryer vent. The lint could catch on fire, which makes it a wise decision to contact us immediately after you notice a burning odor when your clothes dryer is working.
If your dryer vent has not been professionally cleaned in over a year, you should call our experienced dryer vent cleaning Fairborn, OH company today to make an appointment to have your dryer fully inspected and to have the vent thoroughly cleaned.
Dryer Vent Cleaning In Fairborn, OH Is Important

We will get back to you with a free estimate